Organic Enterprise Semi-Dwarf Apple Tree
mature height 10-12ft
requires staking
late-season
fresh eating, storage & sauce
hardy to zone 4
Description
Scrumptiously sweet and meltingly crisp with mild, nuanced acidity, squint your eyes through the vivid shine perhaps you'll see and taste the McIntosh in Enterprise's parentage. Deliciously resilient, Enterprise combines high resistance to scab, cedar-apple rust and fire blight, quite a combination! Enterprise also resists blooming early, easily avoiding late frosts.
We are sharing Enterprise on Geneva 935 dwarfing rootstock, making it easier to pick, prune, and maintain than standard sized trees. Dwarfing trees are more precocious than standards, bearing fruit earlier in just a few seasons! Requiring the support of a stake or trellis, this vigorous rootstock holds up against weed competition better than other dwarfing rootstocks and doesn't sucker, as well.
Hardy to zone 4, Enterprise stores up to six months with full flavor developing about one month into cold storage, the quintessential taste of winter's arrival! We are so grateful to PRI (Purdue, Rutgers and University of Illinois) for developing and sharing wide this fabulous apple in 1993.
Friends! Enjoy 10% off 25+ trees with code ORCHARDABUNDANCE at checkout. For 50+ trees, get 15% off with code ORCHARDABUNDANCE+.
Tree shipping is limited to the following states: CT, DC, DE, IA, IL, IN, MA, MD, ME, MI, MN, NH, NJ, NY, OH, PA, RI, VA, VT, WI, WV
Note: Please purchase trees separately from other items (however the Apple Abundance kit plus apple trees in an order is grand!)
Look what we made for you… a comparison chart of Fruition's apple varieties: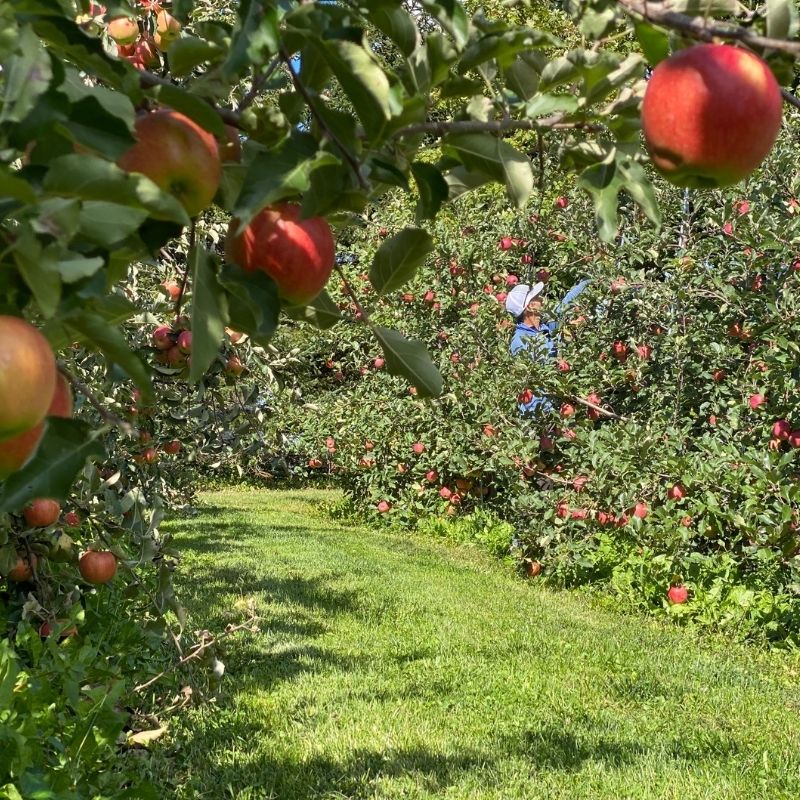 Enjoy Fruition's
Organic Apples & Orcharding Course!
Fruition's free course shares dozens of video tutorials to surround you with abundance for seasons to come. You'll have lifetime access to the course and we look so forward to joining you on the journey!
Sow Seeds & Sing Songs,

& the whole Fruition Crew