---
At Fruition, we believe each seed, like each of us, is in the world to change the world…and we are here to adapt, evolve and be changed by the world, as well. As we learn to be an organization nourishing our common flourishing, we share these Guidelines so we can grow trust, justice and joy as abundantly as our gardens. These are dynamic, iterative processes, so expect them to evolve, just like us!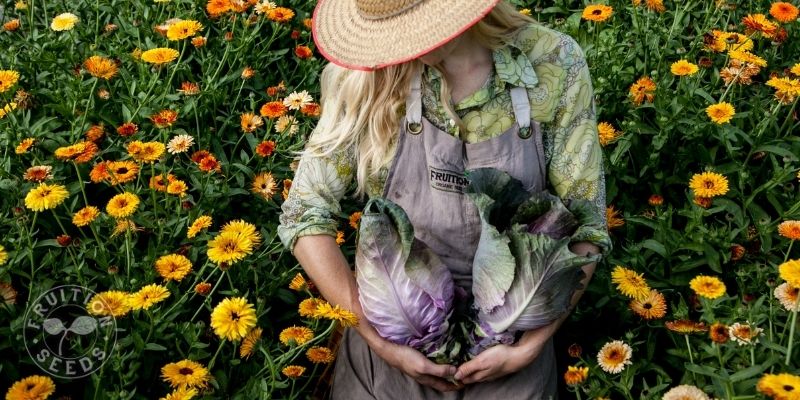 Before we dig deeper, let's commit to this Guideline together:
Be Curious, Not Furious
When we're becoming angry or otherwise triggered, we are learning to hold ourselves accountable for learning more and asking more questions rather than leaping to the binary of black-and-white binary thinking, evaluating 'right' and 'wrong.'
If in an email or conversation your tone becomes defensive, we will respond, "Friend, what you are expressing is defensive. Please sit with your discomfort and respond with a constructive question to continue our conversation when you are ready." If we respond more than twice this way, we will respectfully discontinue communicating and will delete inappropriate comments from our public dialogue: Two-way commitment to respectful communication is essential for our collective liberation.
"Demonization is colonization." ~Leah Penniman
Here are some phrases we're practicing along the way:
Let's dig in:
How is Gardening Political?
Nothing is apolitical, Friends.
Not even our gardens.
At its root, 'political' simply means 'public.'
'Justice is what love looks like in public.' ~ Cornel West
Gardening is not political in the false dichotomy of 'democrat' and 'republican.' Rather, gardening is political in the deep knowing that everything is connected.
Where did those seeds come from? Whose land are we on? Who is being fed by this garden? Who is not?
Friends, when we grow gardens, we grow so much more than carrots, so much more than calories.
Gardening is a political act of love, honoring the untold generations whose hope is embodied in each seed, that against all odds they are here, in our hands.
Gardening is a political act of resistance, knowing self-care and community care are antidotes to oppression.
Gardening is a political act of liberation, knowing beauty and abundance are amplified when collectively enjoyed.
Gardening is political, Friends. Deliciously so! Let's dig in as we break the cycle of inaction, together:

Fruition's Community Conversation Guidelines:
~ Center voices from the Margins

~ Recognize & compost our guilt (and all things that don't serve our collective well-being).

~ We've only just begun, always.
With humility and commitment to our own increasing awareness, we are honored to engage in dialogue with these guidelines, always iterating. Let's unpack them…
Center Voices from the Margins
Friends, we must learn to center voices beyond our own.
We've been socialized to think it's normal for the world around us to center our voices and those who look like us.
Together, let's commit to amplifying the marginalized voices of Black, Indigenous & People of Color/Culture (BIPOC) folx as well as our LGBTQIA+ community, our differently abled and womxn everywhere as well as family beyond our own species.
To become good allies/accomplices in liberation and good ancestors for all, we must 'pass the mic' with humility, knowing the mic was never 'ours' to begin with.
"You have a duty to change what you have the power to change." ~ Austin Channing
"None of us are free until all of us are free." ~Ella Baker
Recognize & Compost our Guilt
(& all else that doesn't serve our collective well-being)
Together, let's resist letting new perspectives become paralyzing and/or a source of shame. It's so much easier to say than to do and that is why we do this together. Shame only slows growth. Here at Fruition, we are working through our layers of white, patriarchal, capitalist guilt, too! This is healthy as well as imperative. We can witness and accompany our guilt and yours; if you feel we have shamed you, ask yourself before you reach out: "Why do I feel shame? Is this shame protecting my ego, my privilege, my comfort? What if this discomfort is a mirror to help expand my understanding? Am I willing to consider the possibility? If I'm not willing, why not?"
and our final guideline:
We've only just begun, always.
We won't be perfect. Like our gardens, we don't just arrive. We grow.
"We will continue to mess up so continue to be teachable, open to correction from folx on the margins. Vigilantly monitor ourselves for defensiveness and fragility. We'll never 'arrive' as allies, we must continually practice allyship." ~@itsjacksonbbz
Before You Go!
We have arrived in this moment after generations of oppression. It will take generations to heal… …which does not abdicate our responsibility to show up in this moment and all moments to come…and if you're reading this, you're SHOWING UP! For ourselves, our communities, our world and for all generations to come. We love you! And are honored to join you on the journey.
Sow Seeds & Sing Songs,

& the whole Fruition Crew
"Change happens at the speed of trust; trust happens at the speed of relationship." ~Reverend Jennifer Bailey

ps
As the saying goes, the best time to plant an orchard was 40 years ago.
The best time to staunch white supremacy & so many other forms of oppression on this continent was 400 years ago.
The second best time, for all of them, is now.
Join us, Friends: We don't know what this looks like yet, but we know it's the most important seeds we'll ever sow. Join us here & we'll send you a few of our favorite anti-oppression resources & welcome you as the shape of this seed sprouts. Stay tuned & don't be shy! Thanks for knowing you, and each seed, are not as small as you seem…
…and we're here for you in all ways & all seasons.