Organic Crimson Crisp Semi-Dwarf Apple Tree
mature height 10-12ft
requires staking
mid-season
fresh eating, storage & sauce
hardy to zone 4
Description
A delightful mid-season dessert apple ripening at the end of September, Crimson Crisp is iconically round and quite possibly the brightest red apple we've seen. With yellow dapples here and there and a signature shine, without exaggeration, Crimson Crisp practically beams! Tiny russet dots scatter the thin skin covering very crisp and juicy flesh, utterly refreshing. Sweet flavor and hints of cherry are balanced by just the right amount of tartness. A scab resistant variety released in 1971 by PRI (Purdue, Rutgers & University of Illinois) with Jonathan and Rome Beauty parentage, Crimson Crisp is an excellent option for no spray and organic orchards. Though Crimson Crisp has low to moderate vigor, they otherwise are very grower friendly.


We are sharing Crimson Crisp on Geneva 969 dwarfing rootstock, making it easier to pick, prune, and maintain than standard sized trees. Dwarfing trees are more precocious than standards, bearing fruit earlier in age! Requiring the support of a stake or trellis, this vigorous rootstock holds up against weed competition better than other dwarfing rootstocks and doesn't sucker, as well.
Tree shipping is limited to the following states:
CT, DC, DE, IA, IL, IN, MA, MD, ME, MI, MN, NH, NJ, NY, OH, PA, RI, VA, VT, WI, WV

Note: Please purchase trees separately from other items (however the Apple Abundance kit + trees in an order is grand!)

Enjoy 10% off 25+ trees with code ORCHARDABUNDANCE at checkout.
For 50+ trees, get 15% off with code ORCHARDABUNDANCE+

Planting trees can be intimidating! Hop into our 6 Core Questions for Orchard Planning blog as well as free Organic Apples and Orcharding course to get started, we're right there with you!
Look what we made for you… a comparison chart of Fruition's apple varieties: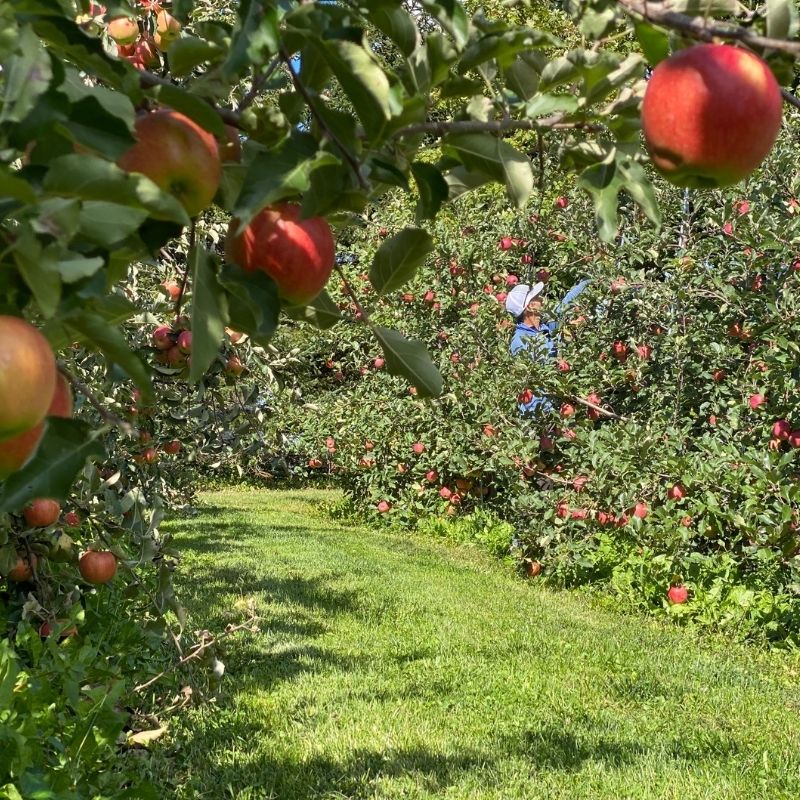 Enjoy Fruition's
Organic Apples & Orcharding Course!
Fruition's free course shares dozens of video tutorials to surround you with abundance for seasons to come. You'll have lifetime access to the course and we look so forward to joining you on the journey!
Sow Seeds & Sing Songs,

& the whole Fruition Crew