~ Open Saturdays & Sundays in April and May, 10am – 2pm ~
We're open each weekend in April and May between 10 & 2 sharing organic seeds, transplants, scoop-your-own compost, heat mats, soil blockers and everything you need to fill your garden with abundance…
…all the while surrounded by Kim Torpey's glorious murals!
2024 Transplant List
~ Check back for our 2024 Transplant List, Friends! ~
2024 Fruit & Nut Tree Weekends
~ Dates & more info Coming Soon! ~
For a few special weekends at Garden Store, you'll find deliciously disease-resistant offerings, including heirloom apples and pears, pawpaws, northern hardy cherries, peaches, plums, chestnuts, walnuts, mulberries and grapes! You'll also find hands-on tree workshops!
All our bare-root fruit and nut trees at Garden Store are first-come, first-served so come early. Most fruit and nut trees offered will be non-organic. Sedans and compact cars may be too small to fit some of the 2-year-old fruit trees, so bring a larger vehicle or a friend with one!
We love to share what we love & look so forward to sharing our abundance with you ~
Daffodil U-Pick & Murals!
Can you imagine the flowery ocean of yellow and cream? We've planted over 3000 daffodil bulbs, dozens of glorious varieties, growing a free ocean of u-pick blooms to share with you and with us all for generations to come, so bring a vase!
While you swoon, don't forget to drink in the artistic beauty of seven (!) murals spanning hundreds of feet across our barns. Enjoy!
And on your way, don't forget…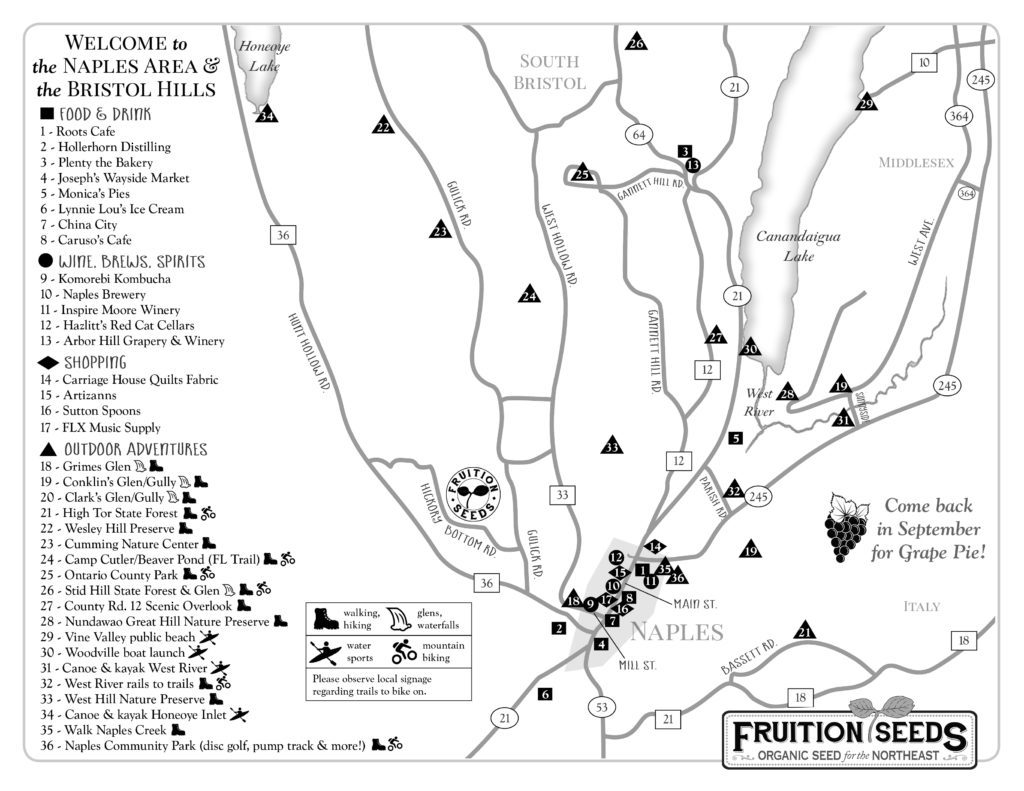 We Made You a Map!
There are so many marvelous ways to enjoy our hills, valleys, lakes & glens, so we've made you a printable map of our favorite places surrounding the Fruition Seeds farm:
~When you join us, check your inbox for your welcome & access info! Stay tuned for our weekly organic gardening tips & inspiration, as well~
Events Calendar
Fruition events in the meantime…
Fruition Seeds
7921 Hickory Bottom Road Naples, New York 14512
support@fruitionseeds.com