~ Open Saturdays & Sundays in April and May, 10am – 2pm ~
We're open each weekend in April and May between 10 & 2 sharing organic seeds, transplants, scoop-your-own compost, heat mats, soil blockers and everything you need to fill your garden with abundance…
…all the while surrounded by Kim Torpey's glorious murals!
2024 Transplant List
~ Check back for our 2024 Transplant List, Friends! ~
2024 Fruit & Nut Tree Weekends
~ April 27th & 28th, 10am – 2pm ~
Join us April 27th and 28th, 2024 to pick up your pre-ordered trees as well as peruse & purchase bare-root fruit and nut trees in person (first-come, first-served) alongside our hundreds of seeds, soil blockers, gorgeous transplants and scoop-your-own compost at Fruition's Garden Store!
You'll find deliciously disease-resistant varieties for pre-order and pickup at Tree Weekend! You'll find the list offered (apples and pears, pawpaws, northern hardy cherries, peaches, plums, chestnuts, mulberries and grapes) for pre-order here along with more Tree Weekend events (like hands-on tree workshops!) & info.
And great news: The full diversity of our regionally adapted fruit and nut trees will be available for pre-order this fall so you can come to the farm with confidence you'll return home with the apricot (and so much more!) you came for.
Notes on organic vs non-organic offerings: The gorgeous fruit and nut trees we share come from dear Amish friends here in western New York who are third generation tree growers focusing on regional adaptation, deliciousness and sustainability. Though only a portion of the trees they grow are certified organic, all of their farm is managed with organic practices such as composting, cover cropping and rotation. They do not use herbicides and are fastidious in their attentiveness to pest insects and diseases honoring Integrated Pest Management (IPM) approaches that foster health in trees, humans and the ecosystems we share for generations to come.
Transporting your trees: Sedans and compact cars may be too small to fit some of the 2-year-old fruit trees, so bring a larger vehicle if you're able.
We love to share what we love & look so forward to sharing our abundance with you ~
Daffodil U-Pick & Murals!
Can you imagine the flowery ocean of yellow and cream? We've planted over 3000 daffodil bulbs, dozens of glorious varieties, growing a free ocean of u-pick blooms to share with you and with us all for generations to come, so bring a vase!
While you swoon, don't forget to drink in the artistic beauty of seven (!) murals spanning hundreds of feet across our barns. Enjoy!
And on your way, don't forget…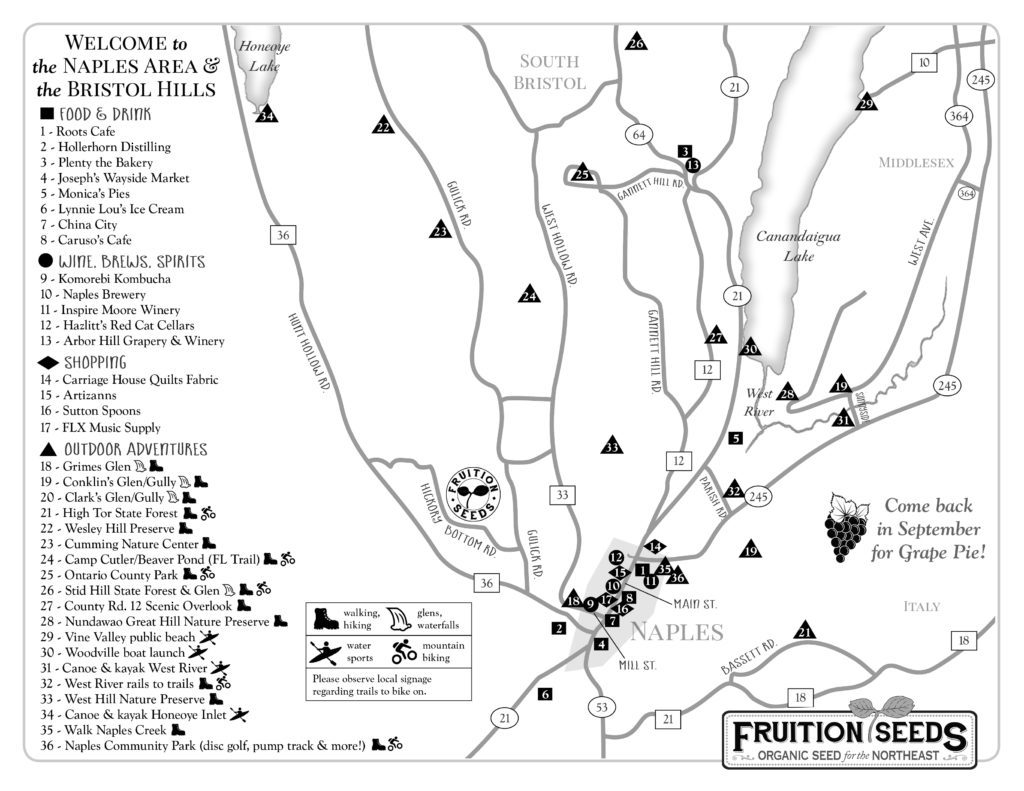 We Made You a Map!
There are so many marvelous ways to enjoy our hills, valleys, lakes & glens, so we've made you a printable map of our favorite places surrounding the Fruition Seeds farm:
~When you join us, check your inbox for your welcome & access info! Stay tuned for our weekly organic gardening tips & inspiration, as well~
Other Fruition Events
Take a peek at Fruition events here in the meantime and see you soon, Friends!
Fruition Seeds
7921 Hickory Bottom Road Naples, New York 14512
support@fruitionseeds.com