Organic Triumph Semi-Dwarf Apple Tree
mature height 10-12ft
requires staking
mid-season
fresh eating, storage & sauce
hardy to zone 4
Description
A luscious cross of Honeycrisp and Liberty, Triumph is incredibly juicy, crisp and sweet with just the right amount of tart. With flavors of 'honey and elderflower,' we loved our 2021 taste test where Triumph was described as 'dynamic' 'flavor explosion' and 'my new favorite apple!' A delectable mid-season apple with impressive disease resistance, Triumph ripens from late September through early October here in Zone 5.
We are sharing Triumph on Geneva 969 dwarfing rootstock, making it easier to pick, prune, and maintain than standard sized trees. Dwarfing trees are more precocious than standards, bearing fruit earlier in just a few seasons! Requiring the support of a stake or trellis, this vigorous rootstock holds up against weed competition better than other dwarfing rootstocks and doesn't sucker, as well.
If you've never heard of Triumph, you're not alone — and not for long! Formerly known as MN80, Triumph is a brand new release from University of Minnesota, fall of 2021. Triumph is the best of both worlds with flavors from Honeycrisp and resilience from Liberty, including resistance to apple scab and less susceptibility to bitter pit. So far, no signs of fire blight! Triumph also stores well into the winter and is hardy to zone 4.
We also love that Triumph can be grown by us all! While this may not sound revolutionary, many new apple varieties are available exclusively to certain growers, so we applaud the vision and generosity of the breeders and their extended networks for putting so many years of work into creating this downright delicious apple that everyone now can grow. We were so fortunate to taste Triumph this fall at UMaine's Highmoor Farm experimental orchard as well as Black Diamond Orchard and Cider in the Finger Lakes of New York.
Tree shipping is limited to the following states:
CT, DC, DE, IA, IL, IN, MA, MD, ME, MI, MN, NH, NJ, NY, OH, PA, RI, VA, VT, WI, WV

Note: Please purchase trees separately from other items (however the Apple Abundance kit + trees in an order is grand!)

Enjoy 10% off 25+ trees with code ORCHARDABUNDANCE at checkout.
For 50+ trees, get 15% off with code ORCHARDABUNDANCE+

Planting trees can be intimidating! Hop into our 6 Core Questions for Orchard Planning blog as well as free Organic Apples and Orcharding course to get started, we're right there with you!
Look what we made for you… a comparison chart of Fruition's apple varieties: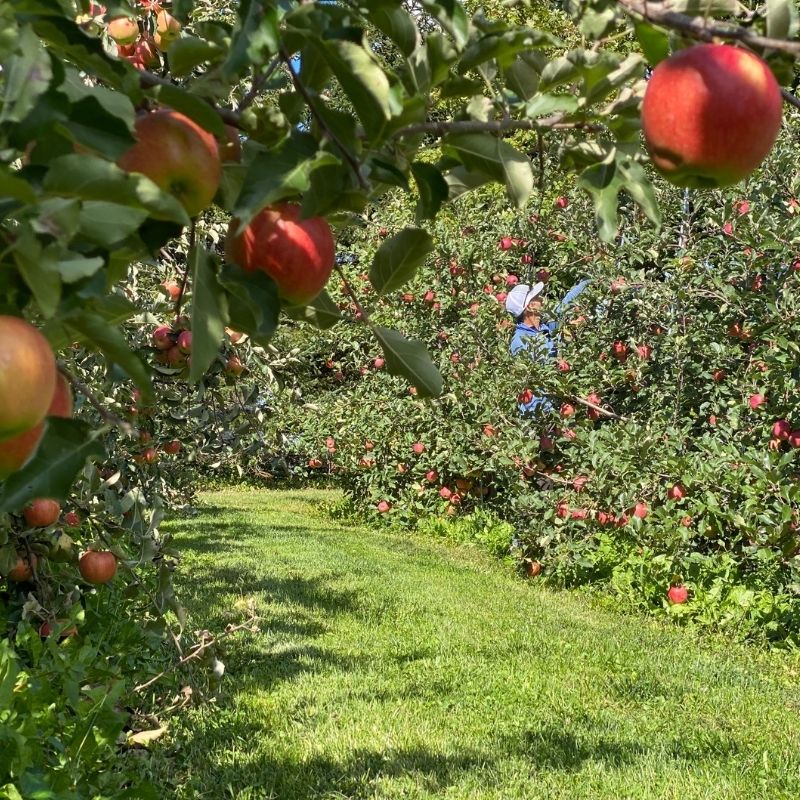 Enjoy Fruition's
Organic Apples & Orcharding Course!
Fruition's free course shares dozens of video tutorials to surround you with abundance for seasons to come. You'll have lifetime access to the course and we look so forward to joining you on the journey!

 
Sow Seeds & Sing Songs,

& the whole Fruition Crew