Organic Goldrush Semi-Dwarf Apple Tree
mature height 10-12ft
requires staking
late-season
fresh eating & storage
hardy to zone 4
Description
One of the most luscious apples we've ever tasted and certainly our favorite winter apple bursting with deep, nuanced sweetness and such a satisfying crunch! The final apple we harvest in late November, Goldrush gets sweeter as they blush in the cold, undaunted all the way down to 22 F, -6 C. Lasting through May in the cellar, Goldrush is prime December through April.
We are sharing Goldrush on Geneva 202 dwarfing rootstock, making it easier to pick, prune, and maintain than standard sized trees. Dwarfing trees are more precocious than standards, bearing fruit earlier in age! Requiring the support of a stake or trellis, this vigorous rootstock holds up against weed competition better than other dwarfing rootstocks and doesn't sucker, as well.
Exceptional in flavor and storage, Goldrush is also highly resistant to scab and powdery mildew with moderate resistance to fire blight. Hardy to zone 4.
All apples thrive with thoughtful thinning though Goldrush (Liberty and Pristine, too!) are particularly prolific, requiring thinning each season to harvest the fruit we all dream of.
A cross of Golden Delicious x Co-op 17, we are grateful for PRI (a collaborative breeding program between Purdue, Rutgers, University of Illinois) for sharing this extraordinary variety in 1994. Undoubtedly, Goldrush is one of the best flavored storage apples of all time and certainly one of the most delectably disease resistant apples to come out of PRI.
Tree shipping is limited to the following states:
CT, DC, DE, IA, IL, IN, MA, MD, ME, MI, MN, NH, NJ, NY, OH, PA, RI, VA, VT, WI, WV

Note: Please purchase trees separately from other items (however the Apple Abundance kit + trees in an order is grand!)

Enjoy 10% off 25+ trees with code ORCHARDABUNDANCE at checkout.
For 50+ trees, get 15% off with code ORCHARDABUNDANCE+

Planting trees can be intimidating! Hop into our 6 Core Questions for Orchard Planning blog as well as free Organic Apples and Orcharding course to get started, we're right there with you!
Look what we made for you… a comparison chart of Fruition's apple varieties: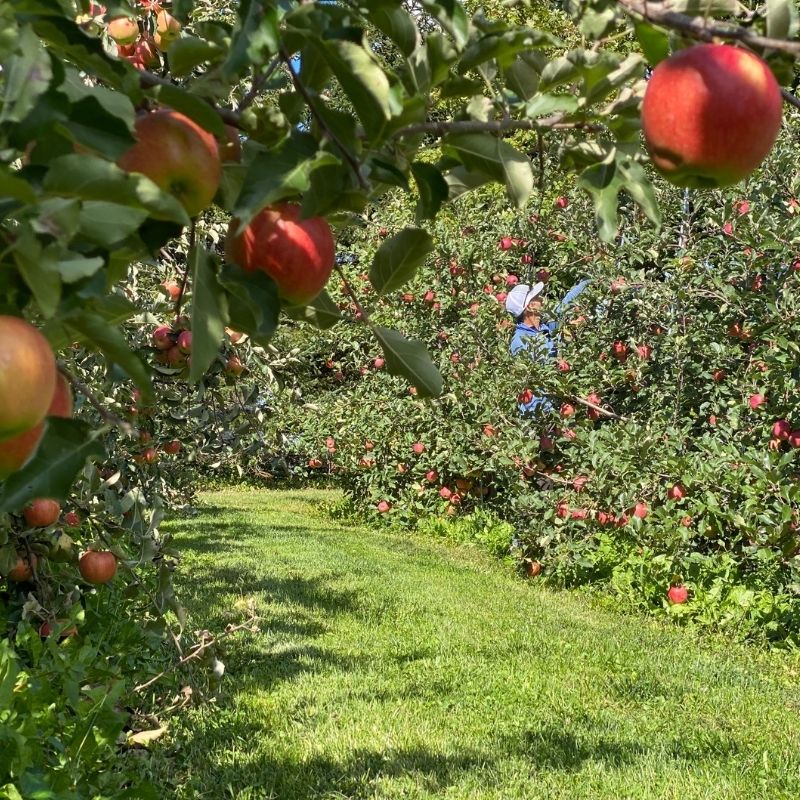 Enjoy Fruition's
Organic Apples & Orcharding Course!
Fruition's free course shares dozens of video tutorials to surround you with abundance for seasons to come. You'll have lifetime access to the course and we look so forward to joining you on the journey!
Sow Seeds & Sing Songs,

& the whole Fruition Crew