The scent of apples fills the air as leaves turn on the hillsides and Friends, as you roam the countryside searching for apples old and new, here are opportunities to taste fruit with Fruition as well as (a not comprehensive!) list of orchards in our bioregion that offer some of the fruit varieties we at Fruition sell as trees.
Apple Tastings with Fruition:
(free!) Trumansburg Farmers Market Wednesday, October 5th 4 – 7 pm
This is their special cider week, rejoice!
(free!) The People's Harvest Celebration & Garden Giveaway in Rochester at 490 Farmers on Friday October 7th 6 to 8 pm
sample apples, make your own fire cider, seed & plant swap & share & so much more!
Fruition Seeds Apple & Squash Tasting + Farm Tour Saturday, October 8th 12 – 3pm
including a tasting of a new winter squash we're developing…!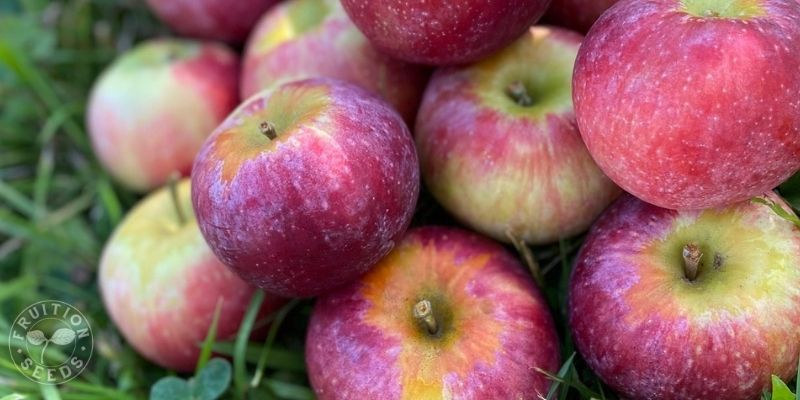 Orchards to Sample Fruit Fruition Shares:
Note: We do not mean to suggest these orchards bought their trees from us; rather, if you are wanting to taste fruit before you decide to buy a tree from Fruition or anyone else, stop by these farms!
These Orchards share so many more heirloom and modern varieties than we can dream of so truly, don't hold back in trying them all.
Also, if you have go-to orchards offering a diversity of delectable varieties that are not on this list, in the Northeast or beyond, leave a comment below! We'd love to shout them out, too.
Connecticut
Maine
Massachusetts
New Hampshire
New York
Pennsylvania
Rhode Island
Vermont
Also, Fruition's apple trees (including new varieties!) are available for pre-order November 16th!

& the whole Fruition crew
ps
If growing your own fruit trees sounds intimidating, we agree! We share everything we're learning on our blog, in our webinar library and in our free online course, Apples & Organic Orcharding. If we can do it, you can, too! We also share live monthly Q & Qs (always free!) as a community to learn, laugh & grow together. You'll receive the link to our next Q & Q along with our Apple Growing Guide when you join us below!
(You only need to register once for the entire series, both live & recorded, so don't be shy!)
Join our free online
Tree & Orchard Q & Qs!
Curiosity cultivates care & connection... let's together dig deeper than 'answers'!
Up Next...
Your Tree Order is Shipping Soon:
What to expect & do when your trees arrive!
Plus planting and early season tree care tips
Wednesday April 12th from 6:30 to 7:30 et
*ASL Interpretation will be provided!
~When you join us, check your inbox for your welcome & access info! Stay tuned for our weekly organic gardening tips & inspiration, as well~