With snow still on the ground and freezing nights long from over, it's finally time to sow the first seeds!
Sowing alliums is certainly a sign that spring has nearly sprung.
The ideal window to sow onions, leeks & seeded shallots here in Zone 5 is mid-February to mid-March. No need to rush, you've got time to gather everything you need to make it easy. Growing great seedlings is one of the best ways to ensure you'll truly reap what you sow.
And don't worry, it's not time to start everything. In fact, most seeds sown this early would be sown weeks (& months!) too soon, here in Zone 5.
The only seeds to sow in February are allium seeds.  The Allium family (thanks for the great name, Linneus) include onions, leeks, shallots, chives and garlic. Garlic and vegetative shallots are planted in fall and chives can wait 'til April, but the first three are best sown mid-February to mid-March. It's not a race and no need to make any extra work for yourself, just know if you're looking forward to homegrown onions as much as we are, it's time to start planning & planting! 
Materials You'll Need:
Manageable tub (to contain your potting mix)
Warm water (your hands will be so much more comfortable!)
Bottom & Top Trays (to sow into, cell trays are less efficient for alliums)
Labels (Write variety name + date)
Marker (waterproof is ideal)
Optional but awesome:
Heat Mat (to increase germination time & rate)
Our materials list is from our 40-page book, Rise & Shine: Starting Seeds with Ease. You'll find the free ebook perfect for home printing here and if you'd love a full color, spiral-bound paper copy, our next edition just arrived & you'll find them here.
To Sow Your Seeds:
Follow the instructions in our video above! Here's the keys to keep in mind:
When to Sow: 8 to 10 weeks before final frost
Sowing Depth: 1/8″ | Sowing Spacing: 1/2″
Days to Germination: 6 to 9 (heat mats hasten germination)
Offer as much light as possible, trimming seedlings back to 4″ tall once they're 6″ or more. Enjoy the trimmings, they're delectable!
Harden off & transplant out around final frost.
Fruition's Favorite Alliums…
New York Early Onion
HEIRLOOM Beyond her delectability, we love New York Early for her dependable earliness and long storage life. Storing rock-hard consistently through the winter, we rarely have months we don't eat these 2.5 to 3 inch wide, beautifully round onions.

Rossa di Milano Onion
HEIRLOOM We first fell in love with Rossa's high shoulders, tapered heart shape and of course her rich and glorious color; we continue to grow Rossa di Milano for her remarkable flavor. The sweetest onion we grow, Rossa is our favorite onion for raw salsa and guacamole. We enjoy her grilled, sauteed and indeed any way we enjoy onions. Rossa di Milano is also an exceptionally long storage onion, easily accompanying us through the long winters.

Tadorna Leek
 We love leeks all summer but autumn is when we fall hard for their deeply savory, aromatic sweetness. Tadorna thrives all season and is more cold-hardy than most, so she is our go-to for fall leeks, especially. At Fruition, we sow our first leeks indoors in March, sowing more each month through early August to surround ourselves with delectable abundance all season. Transplanting as well as mulching deeply with straw, leaves or grass clippings increases the white, sweet stem that we love so well.
Chives
HEIRLOOM Easy to grow and one of the hardiest perennial herbs, chives thrive effortlessly from the equator to Alaska! We delight in the mild onion flavor of her tender leaves as well as prolific purple blooms, tossing chives on salads and sandwiches as well as frying into fritters and tempura. We savor chives from snowmelt in early spring 'til she's deep in snow again, often snipping fresh chives on our holiday meals.
Beneficial pollinators flock to the flowers while chives' sulfurous compounds deter pest insects, making her an excellent companion plant.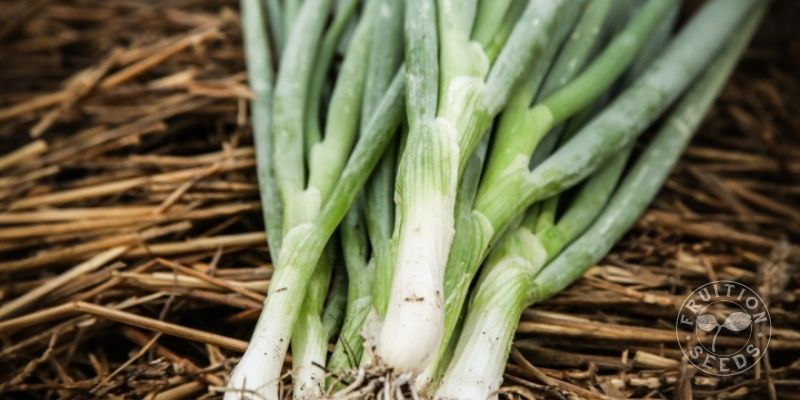 Scallions
HEIRLOOM Did you know bunching onions, also known as scallions, are perennial? So often grown as an annual, scallions are perennial here Zone 5. We sow both in spring for summer scallions as well as fall for a treat to enjoy in April as the snows melt. Either planting will overwinter in the gardens, regrowing quickly as soon as the snows melt, ready to be munched, divided or allowed to flower for some of the most gorgeous flowers we've ever seen.
Sowing alliums is certainly a sign that spring has nearly sprung! Thanks for growing with us, Friends!

& the whole Fruition crew