If growing your own fruit sounds dreamy as well as daunting, we agree! And you're not alone, Friends. For our most detailed video tutorials, hop into our free online course, Apples & Organic Orcharding. You'll also find our step-by-step guide to tree planting (with lots of photos!) in Fruition's free Growing Library. And join us: We gather for free (and fun!) live Q & Q zooms seasonally to dive into your questions, so register here, come curious & see you soon! Here is a list of our blogs in a sweet progression to help surround you with abundance for generations to come:
Choosing Varieties:
How to Choose the Right Apple Varieties for You
The Anatomy of a Grafted Apple Tree
Trees FAQ: Much Ado About Bare Root vs Potted Trees
Where to Sample Apples on the Farm & Beyond
Tree FAQ: Common Questions about Apples
Shipping Details:
Tree FAQ: Much Ado About Shipping & Arrival!
Why We Resist Shipping Trees Everywhere
Caring for Bare Root Trees Upon Arrival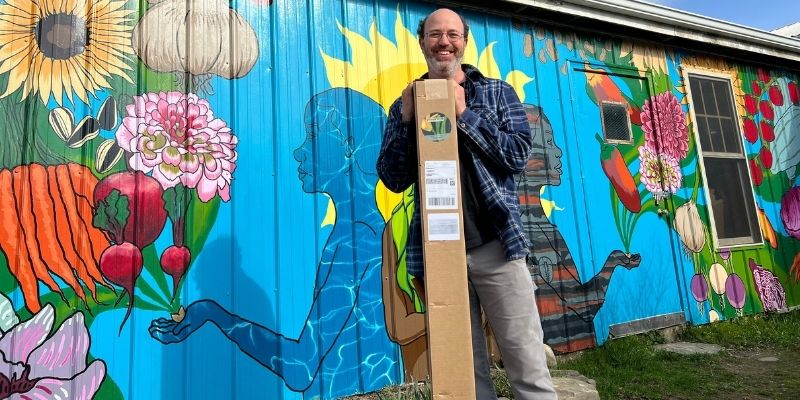 Planning & Planting:
5 Keys to Establishing an Organic Apple Orchard & 5 Common Mistakes to Avoid
6 Core Questions for Orchard Planning
Soil Testing for Trees & Orchards
Preparing in Summer & Fall for Spring Fruit Tree Planting
10 Steps for Planting a Fruit Tree
Caring for Young Trees & Beyond:
Organic Approaches to Spongy Moths in the Orchard & Garden
Trunk Protectors: Little Actions that Make a Huge Difference
Apple Growing Resources We Love
Meet Heron, Fruition's Tree Mentor!

& the whole Fruition crew
ps
If you haven't already, hop into our free online course, Apples & Organic Orcharding. We also share live seasonal Q & Qs (always free!) as a community to learn, laugh & grow together. You'll receive the link to our next Q & Q along with our Apple Growing Guide when you join us below!
(You only need to register once for the entire series, both live & recorded, so don't be shy!)
Join our free online
Tree & Orchard Q & Qs!
Curiosity cultivates care & connection... let's together dig deeper than 'answers'!
Up Next...
Coming Soon!
✽ ✽ ✽
Enjoy our previous Tree Q&Q's and we can't wait to see you next time...

~When you join us, check your inbox for your welcome & access info! Stay tuned for our weekly organic gardening tips & inspiration, as well~