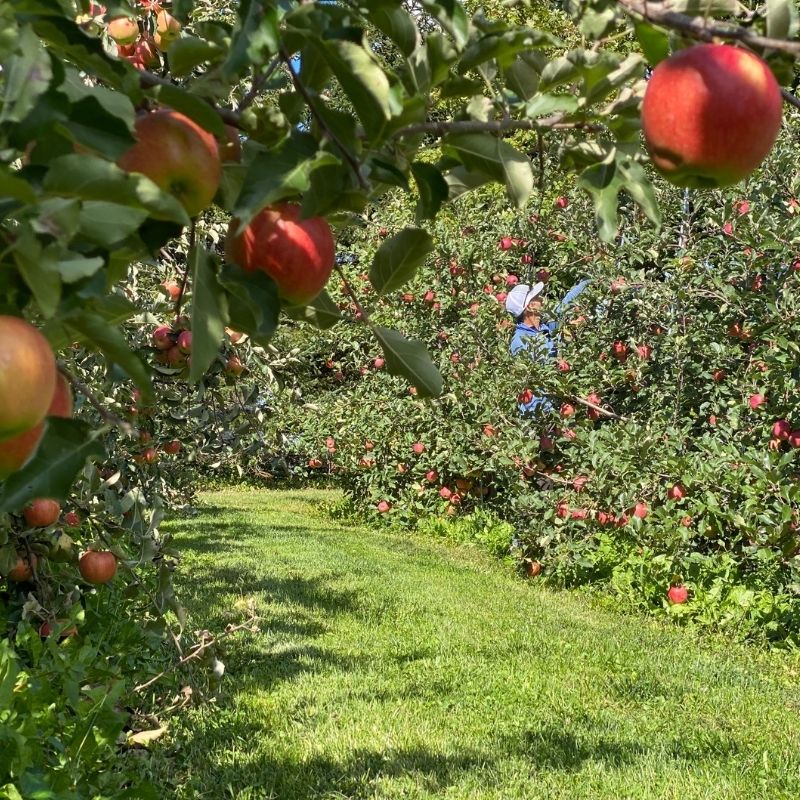 Enjoy Fruition's
Organic Apples & Orcharding Course!
Fruition's free course shares dozens of video tutorials to surround you with abundance for seasons to come.
We look so forward to joining you on the journey!
Trees FAQ: Much Ado About Bare Root vs Potted Trees
How is storing a bare root tree different from a potted tree before it gets planted?
It's almost the opposite. Unlike a potted tree, a bare root tree needs to be stored where it is dark until planting, like a basement, shed, or garage. The idea is to keep the tree as dormant as possible, unlike a potted tree which can be left sitting out in the sunshine to leaf out.
What are the advantages to buying a bare root tree over a potted tree?
Bare root trees tend to be a lot cheaper than potted trees because there isn't as much materials involved and the shipping is much lighter.
Bare root trees don't go through as much transplant shock when they are planted because they are dormant and have not leafed out. It is stressful for trees to be planted in summer, when the sun is hot and they have foliage. Best to avoid this scenario if possible and only plant in spring and fall.
With a bare root tree, poor or underdeveloped root systems can't be hidden in potting soil and there is a much better chance of receiving a good quality tree. Reputable bare root nurseries will grade out trees that don't have strong and robust root systems.
How many years will it be until my apples begin to bear fruit?
If planting semi-dwarf apples that are one year old, they will probably begin fruiting by their 3rd year but you might get lucky and see a few apples in year two. Usually one can expect a bushel of fruit by the 4th year with semi-dwarf trees on G935 and G202 that have not been pruned to be freestanding.
Where can I get more info on Geneva Rootstocks?
There's so much more to share, Friends!
Hop into our many blogs below and stay tuned for our upcoming webinars, on-farm events and a step-by-step course, Organic Apples & Orcharding!
5 Keys for Establishing an Organic Orchard + 5 Common Mistakes to Avoid
6 Core Questions for Orchard Planning
10 Steps for Planting an Apple Tree
Soil Testing for Trees & Orchards
Sow Seeds & Sing Songs,

& the whole Fruition crew