Hello, Fellow Ferment Lover!
There are infinite ways to play with food and fermentation is one of our favorites. From a simple sauerkraut (just salt and cabbage!) to more complex kimchi, miso and beyond, we're here to explore, share, laugh and learn beside you.
Ginger Carrot Kraut is the same foundational approach as Simple Sauerkraut (read on for the recipe below):
Simple Sauerkraut Recipe
Time: 30 to 60 minutes prep; 1 to 3+ weeks to ferment
Tools: A vessel (a wide-mouth mason jar or crock is ideal), a large bowl (if you're using a jar), a blunt tool (to pound your kraut, we often use a jar full of water) or your hands vigorously massaging the kraut-to-be plus a weight to keep your kraut below the brine and a tea towel (or other covering of the vessel).
Ingredients: Veggies (about 2 pounds per quart & think outside the cabbage! We often ferment beets (our all time fave), radish, turnip, carrots, kohlrabi & jerusalem artichokes), salt (1 tablespoon per quart of raw veg) and seasoning (as desired, add to taste anything you love! We love to add, individually or in combination: garlic, juniper berries, caraway seeds, dill, chili peppers, ginger, turmeric & curry powder.)
Sauerkraut Step-by-Step
Prepare the Veggies: Into a bowl, chop or grate your veggies into fairly small and fairly uniform pieces. Food processors are a dream! We do it a little differently each time, though we tend to favor ribbon-like pieces that are 1/8inch wide and an inch or three long.
Salt & Season: Toss the salt & seasonings into your chopped veggies. Err on the side of more salt rather than less: this establishes the environment where the delicious (to us!) lactobacillus culture can thrive. Taste your salt level! We haven't measured our salt for decades, now that we've honed our taste buds to have a sense of the salt needed.
Pound: With a blunt tool (we often use quart jars full of water), gently yet firmly pound your veggies: this ruptures the cell walls of your veggies and the salt draws out water that becomes the brine. If you're making smaller quantities and/or are making kraut with kids, vigorously 'massaging' your veggies will also release the brine, though this takes more time, often five minutes or more.
Pack the Jar or Crock: Once your veggies have released brine that is pooling at the bottom of the bowl/jar/crock, press the veggies down into your fermentation vessel so no air pockets are left, allowing the brine to rise over the kraut-to-be. Leave a couple inches of airspace at the top and expect a little expansion as the fermentation begins. (Remember, your kraut is alive!)
Weight & Cover the Kraut: Veggies often float to the top of the brine & anaerobic fermentation is crucial for delectable kraut. To keep kraut submerged in the brine, lay a clean outer leaf of cabbage (or non-reactive plate, in the case of a crock) so it fits within the jar or crock. Weight it well; we often use a clean mason jar filled with water. Often crocks come with their own ceramic 'stones' that perfectly fit the diameter of the crock. However you weight your crock, lay a clean tea towel over the vessel to prevent dust, fruit flies, phones & other delights from entering your kraut ~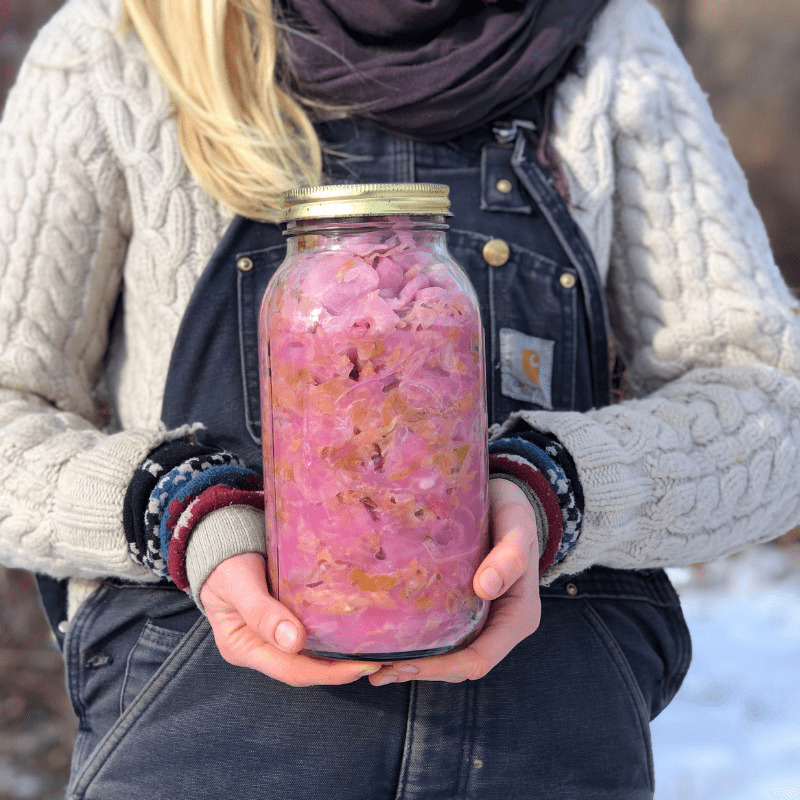 Patience: Your veggies may take a week to 3+ weeks to turn to delectable kraut, depending largely on temperature. In the heat of summer, kraut turns quickly & every few days we lift the cover to taste: The flavor becomes more acid and the texture becomes more soft with time. We tend to taste our ferments every day or so after the first week, so we can tuck them in the fridge just as they reach delectability.
Surface Growth: A 'bloom' often forms at the top of kraut in its initial fermentation, a combination of harmless yeast & mold that won't affect the deliciousness of your kraut underneath. Once you see it, remove & send it to the compost. Above all, don't worry ~
Storage: Once you're pleased with the flavor & texture, remove the tea towel, cover the kraut tightly & send to the fridge where the fermentation slows significantly & stores for months. If you're fermenting in a jar, simply screw on the top. Plastic mason jar tops are often ideal for ferments, since the salt can corrode the metal over time.
Enjoy! To preserve the beneficial bacteria, resist heating your kraut above 105 F. We reach for kraut anytime we crave pickles, olives and adventure with sushi, curries, salads (green, potato, tuna, egg, coleslaw & beyond!), sandwiches (ruebens, grilled cheese, avocado toast, breakfast burritos, bagel & lox), tacos, in deviled eggs, under pierogies, on top of leek & potato soup. Once the kraut is gone, enjoy the brine in dressings & dilute as a digestive tonic!
You Got This!
If we can ferment veggies, you can, too! Like riding a bicycle, the learning curve is significant…
…and not being daunted or discouraged is so crucial.
Like everything in our gardens & in our lives, let's compost our failures (hello, learning opportunities!) and reach out to our fellow fermenting gardeners: we're so not alone and ferments culture us more than we culture them, just like our gardens grow us more than we grow them.

& the whole Fruition crew
ps
Here are just a few of the many fermentation resources we love!
Kirsten Shockey is amazing, Fermented Veggies is a fabulously delectable as well as approachable place to begin, expand & explore your fermentation journey.
Sandor Katz was my intro to *highly* experimental ferment adventures, The Art of Fermentation is a sacred text ~
Our lovely & local Erin Harner, here's her Spicy Cauliflower + Carrot Pickle recipe!
pps
Join us for the Finger Lakes Fermentation Festival on a weekend in the middle of each August! There are tons of hands-on workshops, including the 'kraut mob' that I lead, where I bring our glorious Mermaid's Tale cabbage for us to make kraut together for you to take home!