Friends, meet Lauren!
A new and dear Friend, Lauren has extensive apple and orchard experience as well as great love and deep reverence. Her laugh is quick and bright, her brilliance kind, broad and astonishing.
Here is a tiny slice of why we love her so:
How many years have you been growing with trees, Lauren?

I learned to graft apples one summer about 15 years ago while I was an intern at a fruit tree nursery in the San Juan Islands and liked it so much I never really stopped. I don't grow very many apples in my nursery but love to graft a few each spring just for fun. I started my own orchard, mostly heirloom varieties, about 7 years ago when I moved onto 30 acres in Palermo, Maine.
Is there a 'moment' or transformative experience that deepened your relationship with trees?

My most transformative moment with trees was about 20 years ago when I first set foot onto a cacao farm in the remote mountain village of San Jose, Belize, near the border of Guatemala. I expected a mowed orchard, and instead walked into a dense jungle of tall grass, snakes, monkeys, and exotic birds. It was breath taking, not only in beauty, but because I had naively (more like stupidly) worn sandals and after spotting several poisonous snakes slithering through the grass, wasn't sure if I'd even make it out alive. It was just as magical as it was terrifying. It looked no different than being in the jungle except there was chocolate growing everywhere, along with papaya, coconut and an entire canopy of timber trees above the cacao. The beauty was immense and it was an epochal moment in my understanding of trees. I realized the potential for tree crops, of all kinds, to be part of a much larger and more dynamic ecosystem than a neatly mowed orchard. I survived without a snake bite, and took it as a sign to become a lifelong devotee to polyculture. And to always wear tall rubber boots on cacao farms.
How do trees help humxns navigate this moment of our species' existence? Of your existence?

Trees are therapeutic and healing. They're really there for us! They provide sanctuary in an increasingly chaotic and overdeveloped world. They also hold many truths, and when we take a walk in the woods, sometimes they share them with us.
What is the most remarkable thing about trees for your imagination?

I think one of the most remarkable things to imagine is the potential to increase biodiversity and pollinator habitat tree by tree. Lately I've been inspired by the work of Japanese botanist Akira Miyawaki and the millions of shade trees that have been planted in degraded areas, vacant lots, industrial areas, and yards to create tiny forests throughout the world. When so many of the world's problems feel impossible to overcome, planting patches of forest wherever we can seems like one of the easiest ways we can make a substantial difference for insects and pollinators nearing extinction.
If everyone could know one thing about trees, what would it be?

Apple trees can't be planted and left alone like a sugar maple or an oak. They need quite a bit of attention and maintenance to make it through the early years. Treat them like a member of the family and they will quickly become one.
What is your favorite way to enjoy apples?

My favorite way to eat apples is in crisp. It used to be pie but I no longer eat wheat. At first it felt like a life crisis to think of never eating apple pie again but now I eat crisp almost every day for about half the year, and haven't gotten sick of it yet. My second favorite is hard cider.
What is your favorite addition to apple crisp?

Lowbush blueberries.
What is the hardest lesson you've learned growing apple trees?

They don't always make it and that can be both sad and frustrating. The loss is especially hard when it's a rare variety and years of hard work have gone down the drain. It can be quite discouraging at times.
How many apple trees are in your orchard?

I've only planted a few apples. My orchard is relatively small and it's largely devoted to heirloom pears but also has peaches, plums, and cherries. Each year I plant a few more apples and also graft some of the wild apples that surround my orchard, over to varieties that I really like.
If you could do one thing differently with the orchard you've established, what would it be?

A deer fence. It's essential.
Do you have a favorite author/mentor you'd love folx interested in apples & orcharding to know about?
Michael Phillip's The Holistic Orchard is one of the best resources for learning about organic orcharding. His older book The Apple Grower is also really great.
Also, the Maine Heritage Orchard at MOFGA in Unity, Maine is a reclaimed gravel pit that is now home to over 300 heirloom apple varieties that were close to the verge of extinction not too long ago. Incredible photographs and descriptions of some of our rarest apples can be found on the website: https://www.mofga.org/maineheritageorchard/
Apples of North America by Tom Burford is another essential book on heirloom varieties with excellent color photos and descriptions.
Lauren, thank you! We love you!
We are so grateful to come alive with your light and insight…
…planting so many seeds and trees of all kinds…
…for generations to come!
Sow Seeds & Sing Songs,

& the whole Fruition crew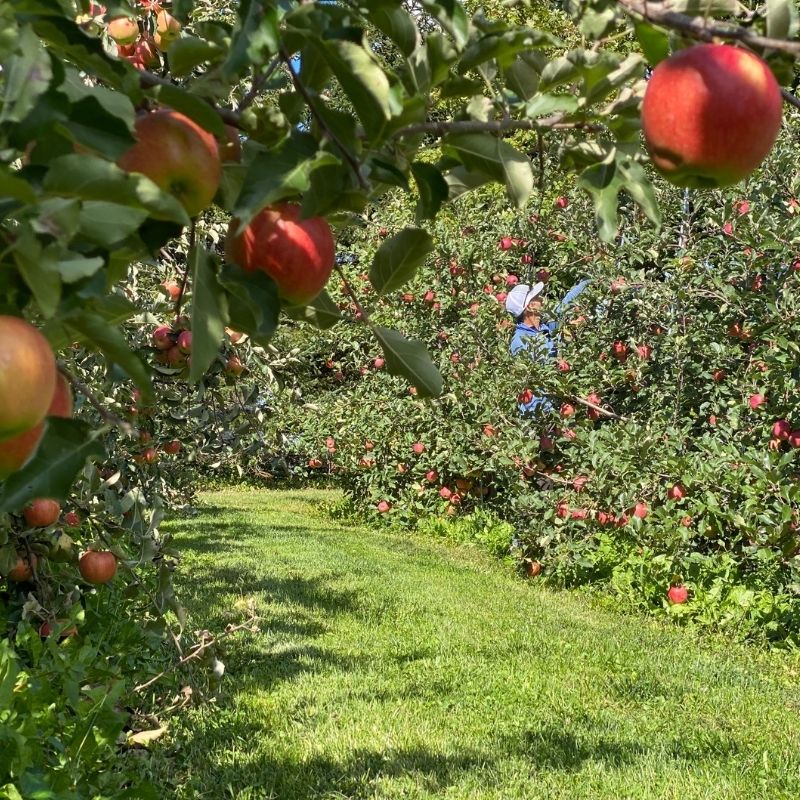 Enjoy Fruition's
Organic Apples & Orcharding Course!
Fruition's free course shares dozens of video tutorials to surround you with abundance for seasons to come. You'll have lifetime access to the course and we look so forward to joining you on the journey!